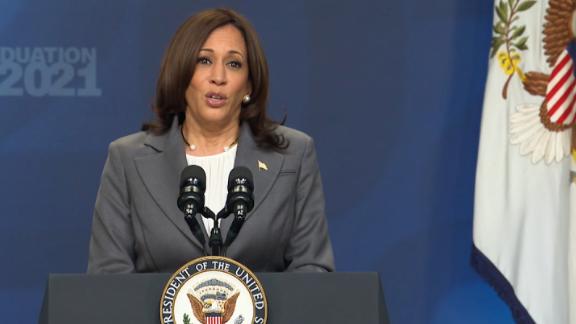 Vice President Kamala Harris on Sunday applauded members of the Class of 2021 on their perseverance in earning their high school diplomas during the coronavirus pandemic, which upended classrooms and shuttered a number of extracurricular activities such as sports.
"You now know, that you have what it takes to get through pretty much anything. So when you come up against an obstacle, when you experience a setback — and you will, we all do — remember the resilience that you showed this past year. The determination. Remember, that you have the strength to get through anything," Harris said during "Graduation 2021: A CNN Special Event" that aired Sunday night. "You do not have to get through anything alone. You are not alone. We are all in this together and when we look out for one another, everybody is better off."
The special, hosted by CNN's Brianna Keilar and Don Lemon, comes as many schools across the country plan virtual ceremonies for the second year in a row because of the pandemic. While some schools are finding safe ways to make sure the show goes on, others are opting for remote events once again with hopes that in-person ceremonies will return next year.