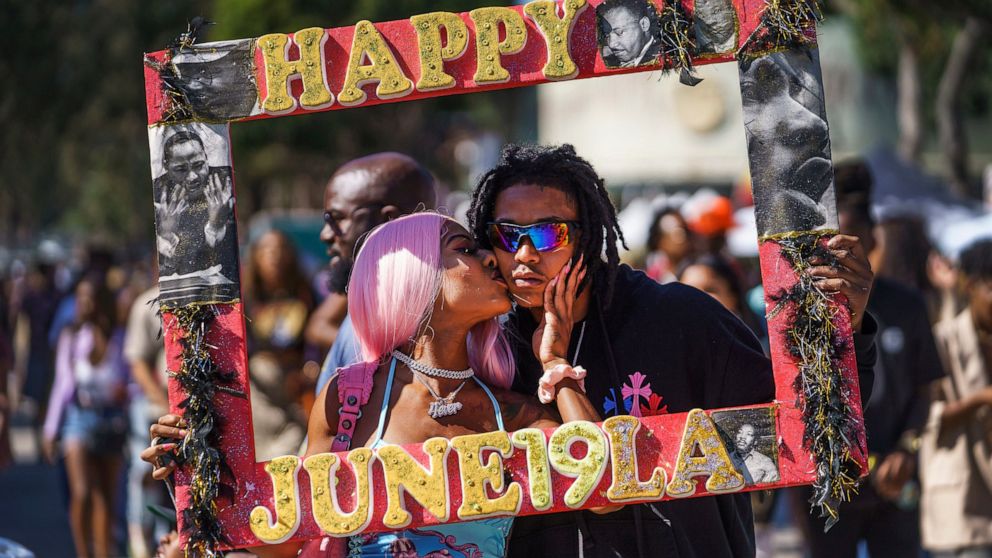 After Opal Lee led hundreds in a walk through her Texas hometown to celebrate Juneteenth, the 95-year-old Black woman who helped successfully push for the holiday to get national recognition said it's important that people learn the history behind it.
"We need to know so people can heal from it and never let it happen again," said Lee, whose 2 1/2-mile (4-kilometer) walk through Fort Worth symbolizes the 2 1/2 years it took after President Abraham Lincoln's Emancipation Proclamation ending slavery in the Southern states for the enslaved people in Texas to be freed.
A year after President Joe Biden signed legislation making June 19 the nation's 12th federal holiday, Americans across the country gathered at events filled with music, food and fireworks. Celebrations also included an emphasis on learning about history and addressing racial disparities. Many people celebrated the day just as they did before any formal recognition.
Juneteenth, also known as Freedom Day, commemorates the day in 1865 when Union soldiers arrived in Galveston, Texas, to order freedom for the enslaved people of the state — two months after the Confederacy had surrendered in the Civil War.