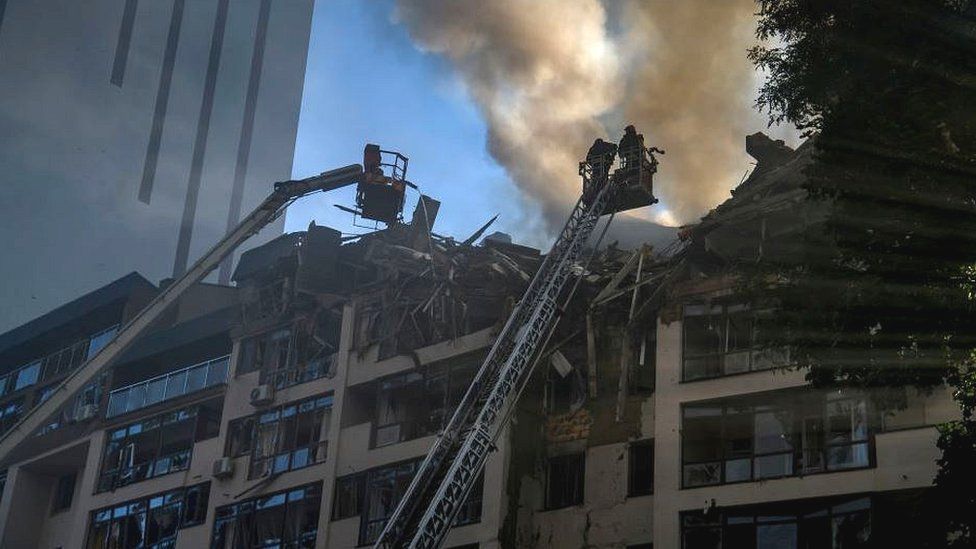 Dozens of Russian missiles have struck targets across Ukraine, with the capital Kyiv enduring the heaviest barrage in months.
A Kyiv apartment block was destroyed, killing at least one and wounding six others including a seven-year-old girl.
Ukraine says 14 missiles were fired at the Kyiv region on Sunday, but the strikes extended far beyond the city.
Other areas included the central city of Cherkasy, where one person died, and the north-eastern Kharkiv region.
The strikes came as leaders of the G7 group of the world's richest nations began a three-day summit in Bavaria, southern Germany, with the war in Ukraine top of the agenda. They are expected to promise further military support for Kyiv and impose more sanctions on Moscow.
"We have to stay together," US President Joe Biden told Germany's Chancellor Olaf Scholz just before the summit at Schloss Elmau.
"[Russian President Vladimir] Putin has been counting on it from the beginning, that somehow Nato would, and the G7 would splinter and… but we haven't, and we're not going to.