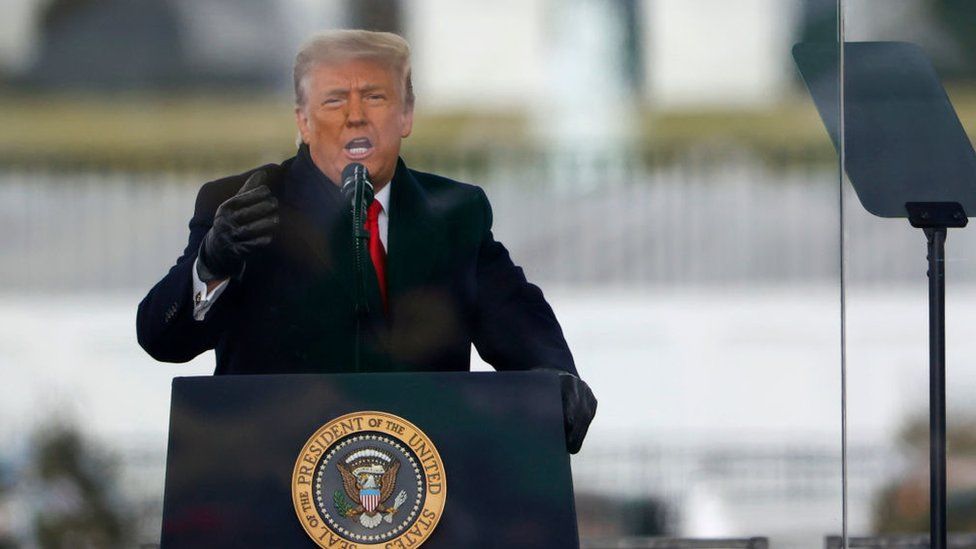 Donald Trump's top lawman worried that the his boss became "detached from reality" after the 2020 election, a congressional panel has heard.
Testimony from Bill Barr played at the 6 January Capitol riot inquiry revealed deep division at the Trump campaign over his claims of election fraud.
Two camps emerged – a "Team Normal" that accepted Mr Trump's loss, and loyalists who did not.
The panel aims to lay out Mr Trump's role in the riot.
The second of a series of public hearings, Monday's session was preceded by the announcement that a star witness – Mr Trump's former campaign manager Bill Stepien – would not be appearing because his wife had gone into labour.
Instead, his lawyer gave a statement on his behalf and Mr Stepien's previous private testimony was publicly played by the Democratic-led US House of Representatives select committee.
In it, Mr Stepien revealed that members of Mr Trump's inner circle advised him to not declare victory in the November 2020 election.
A faction of the campaign he dubbed "Team Normal" told the former president that he lost the election, Mr Stepien said, but another group refused to accept the outcome.
It became known as "Rudy's team", after former New York Mayor Rudy Giuliani, who was among the most vocal of Mr Trump's supporters to claim the election was stolen.